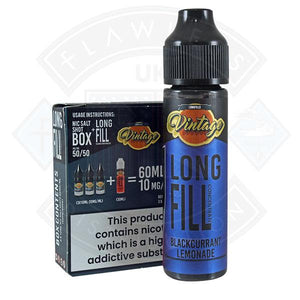 Vintage Longfill Concentrate Blackcurrant Lemonade 30ml
Blackcurrant Lemonade is a fusion of tangy citrus lemonade and fruitiness of blackcurrants. A unique combination that will trigger your taste buds with its refreshing taste.
*Each Vintage Longfill E-Liquid 60ml Bottle is filled with 30ml concentrated flavour with a 30ml empty space to add 3x 10ml Nic salt shots provided in a separate box
Box Content:
1x 60ml Bottle Filled with 30ml Blackcurrant Lemonade Concentrated Flavour
3x 10ml Vintage Nicotine Salt Shot 20mg strength
£1199

£11.99
Tax included.
---
We Also Recommend