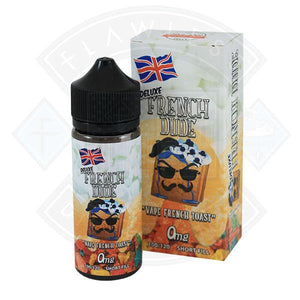 French Dude DELUXE vape french toast 0mg 100ml Shortfill E-liquid
French Dude Deluxe e liquid by Vape Breakfast Classics takes the original French Dude with flavours of French Toast, Blueberries, Cream and Syrup, then adds to it with Fruity Pebbles, Marshmallows and Ice Cream forming one of their best creations.
The French Dude Deluxe e liquid is a 100ml short fill and is nicotine free.
£2399

£23.99
Tax included.
---
We Also Recommend