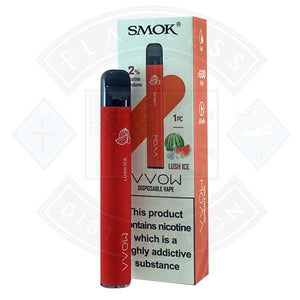 Smok VVOW Disposable Vape Lush Ice 20mg 2ml
With no buttons, the Smok VVOW can bring you a great flavour, and satisfying throat hit. The draw activated pod allows for an easy and convenient startup. Just take a draw when you are ready.
The VVOW Disposable is a Smok disposable vape device filled with 2ml of nicotine salt-based e-liquid.
Specification:
Battery capacity: 500 mAh
Number of puffs: 400
Volume: 2 ml
Nicotine: 2.0% (Nic Salt)
Size: 120.0 x 36.0 x 18.0 mm
Weight: 35.0 g
Flavour Profile: Lush Ice, Menthol
---
We Also Recommend