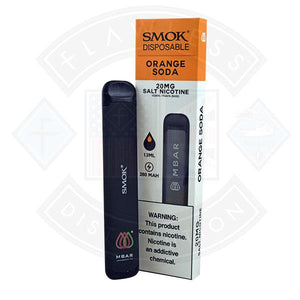 Smok MBAR Disposable Pen Orange Soda 1.3ml
Smok MBAR Disposable Pen Orange Soda is designed your your convenience; the small sleek design is simple to use and slips right into your pocket or handbag. This disposable was made for novices and frequent travellers in mind, ideal also for a night out. The matte rubberised finish on this disposable unit allows for a good grip for a super-lightweight device. 

The The MBAR disposable e-cigarette has an average usage of about 300 puffs before you need to dispose of it. Based on a maximum 18-puff average of a cigarette smoker, the MBAR kit should be equivalent to a 20-Pack of cigarettes in usage based on the average 15-puffs per cigarette. With a 280mAh built in battery, this device has ample power for 300 puffs per device.
Introducing the new innovation in E-liquids, the salt nicotine juices. By using nicotine salts rather than concentrate these juices can have a higher nicotine content without the harshness. Even 20mg juices can become smooth as butter with a salt nicotine.

Specification
Material: Aluminium alloy & rubberised paint finish
Battery capacity: 280 mAh
Number of puffs: 400
Volume: 1.5 ml
Nicotine: 2.0% (Nic Salt)
The size: 110.0 x 23.0 x 6.0 mm
Weight: 18.0 g
Pask size: 1pc
---
We Also Recommend