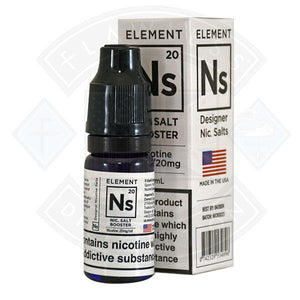 Element NS Nic Salt Nic Shot 10ml
NS 20 Nicotine Salt Shot eLiquid by Element is a Nicotine Booster Shot which you can use in all short-fill E-Liquids.
The Eliquid features 20mg of nicotine, so when added to a 50ml Short Fill of 0mg it will make a 60ml eliquid with a 3.3mg base. Use 1.5 shots with an 80ml Short Fill and two shots with a 100ml Short Fill for similar results.
Nicotine salt
 (nic salt), is extracted directly from the tobacco leaf. Nic salt based e-liquids are absorbed into the body far quicker than standard freebase nicotine vape juice, providing a much quicker hit to keep your nicotine cravings at bay.
---
We Also Recommend