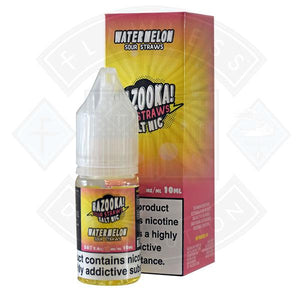 Bazooka Sour Straws Salt Nic Watermelon 10ml
Watermelon Sour Straws feature a deliciously created candy blend, capturing juicy watermelons fused with sweet gummy candy. In addition, a sweet and sour sugar coating is adding a tantalizing tangy kick to the flavour making your taste buds tingle!
Bazooka Nic Salt E-Liquid is a fantastic brand that features a concentration ratio of 50% VG and 50% Mixed PG  high-quality food flavourings and Salt nic. A perfect blend for MTL  vaping!
---
We Also Recommend