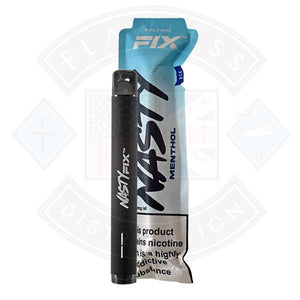 Nasty Juice Salt Nic Fix Menthol 2ml
NASTY JUICE FIX DISPOSABLE POD SYSTEM
Nasty Juice Fix is a disposable pen device that is developed to ensure everyone can enjoy the same Nasty Juice flavours in the easiest way.  Nasty Fix bar provides the user with a straightforward, no-hassle vape experience.
Nasty Juice Fix Menthol nic salt featuring the classic  succulent flavours of a fruity berry blend combined with a cool blast of menthol ice.
Nasty Juice Fix Disposable Pod System is a fantastic pod brand that features a concentration ratio of 40% VG ( Vegetable Glycerine ) and 60% Mixed PG ( Propylene Glycol ) high-quality food flavourings and Salt nicotine. A device for MTL ( Mouth To Lung ) vaping!
NASTY FIX DISPOSABLE VAPE POD FEATURES:
• Compact & light
• Hassle-Free & easy to use
• Same great taste and satisfaction
• Convenient and stylish
• 2% (20mg)/1%(10mg) nicotine strength
• Powered by 700mah battery
• Contains 2ml of Nasty Salts e-liquid
• Delivers approx 675 puffs
Contains:
Nasty Fix Menthol Disposable Vape Device
---
We Also Recommend