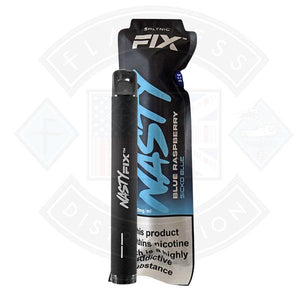 Nasty Juice Salt Nic Fix Blue Raspberry - Sicko Blue 2ml
NASTY JUICE FIX DISPOSABLE POD SYSTEM
Nasty Juice Fix is a disposable pen device that is developed to ensure everyone can enjoy the same Nasty Juice flavours in the easiest way.  Nasty Fix bar provides the user with a straightforward, no-hassle vape experience.
Sicko Blue delivers the true taste of freshly plucked raspberries right from the best vineyards. The full flavour profile of raspberry comes bursting to life with every pull, coupled with hints of a unique berry mix.
Nasty Juice Fix Disposable Pod System is a fantastic pod brand that features a concentration ratio of 40% VG ( Vegetable Glycerine ) and 60% Mixed PG ( Propylene Glycol ) high-quality food flavourings and Salt nicotine. A device for MTL ( Mouth To Lung ) vaping!
NASTY FIX DISPOSABLE VAPE POD FEATURES:
• Compact & light
• Hassle-Free & easy to use
• Same great taste and satisfaction
• Convenient and stylish
• 2% (20mg)/1%(10mg) nicotine strength
• Powered by 700mah battery
• Contains 2ml of Nasty Salts e-liquid
• Delivers approx 675 puffs
Contains:
Nasty Fix Blue Raspberry - Sicko Blue Disposable Vape Device
---
We Also Recommend